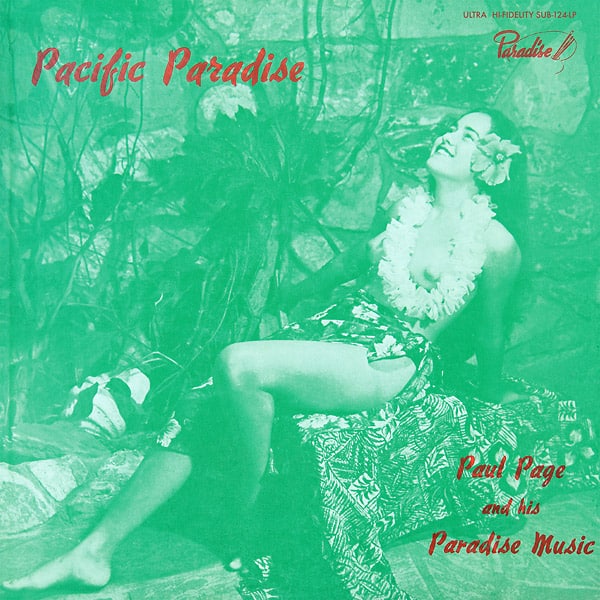 Paul Page — poet, pagan, and playboy of Polynesian pop and Hapa Haole exotica. The music on this unusual exotic album, takes you right to the ocean's edge, mingles you with jungle drums and animals, the booming surf, seagulls, and ocean liners in a coral kaleidoscope of sounds. This is the real deal authentic tiki bar soundtrack.
Paul Page and his Paradise Music entertained in Polynesian themed restaurants all over Southern California from the late '30s to the mid-60s, then all the way out to the Kona Coast during the late '60s and early '70s. The whole time, he kept leaving behind these little independent albums, recorded specifically for the purpose of selling them to the people coming to his small venue shows… which, when you think about it, is basically what all the most-worthy bands to dig do these days, outside the doting eye of the lame record industry. Dude was so ahead of his time!
Paul Page was a singer, piano player, bandleader, writer/composer, radio, and TV host, artist of oils, professional basketball player, and much more. He published many albums during the 1950s-60s and wrote hundreds of songs. His story has never previously been told and his original recordings are very rare, in fact some of them are completely unknown and undocumented, and much sought after by collectors. Paul Page is really the only one to mix actual, authentic Hawaiian music and other Polynesian and Pacific Ocean influences, with the nomadic feel of the seafaring Anglo working sailor man with a sense of American pop sophistication, based in jazz-age. It is his cheerful insistence to employ every known cliché from the Polynesian pop dictionary that makes his stylings so charming to today's tiki lounger. Subliminal Sounds now brings you the full Paul Page saga on this comprehensive compilation. Includes a 32-page booklet with in-depth liner notes by author and pop historian Domenic Priore, with a foreword by author and urban archeologist Sven Kirsten.
Και αφού έφτασες μέχρι εδώ δες και το video clip: