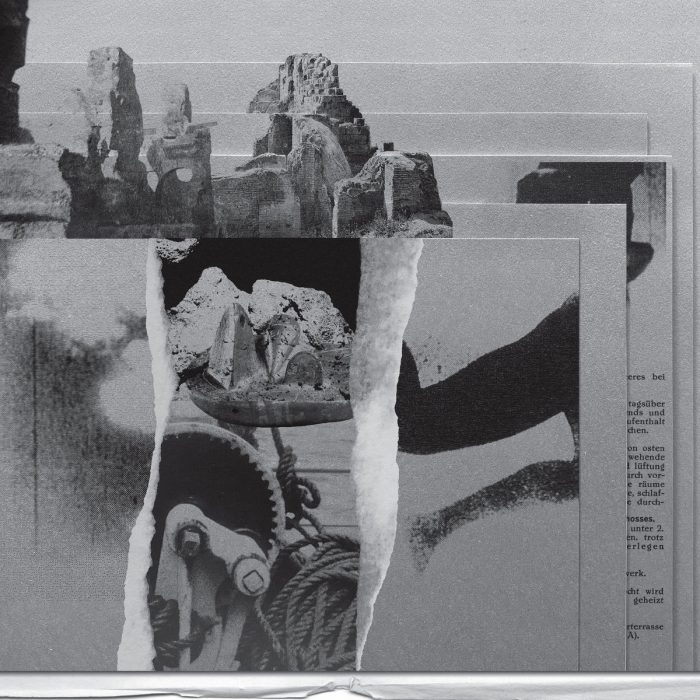 This double album represents a new collaboration between long-time Umor Rex artists Andreas Gerth (one half of Driftmachine) and Carl Oesterhelt (Eleven Pieces for Synthesizer). Both developed their shared musical cosmos while playing together in the Tied+Tickled Trio. Oesterhelt is also known for his solo compositions for orchestras and for his collaboration with Johannes Enders and Hans-Joachim Irmler of Faust. Available in 2 x Vinyl LP in gatefold jackets and digital.
Since its beginnings, a kind of Futurism has been inherent in Electronic Music through its link with technological progress, with the notion that all progress will always come to fruition… Therefore, to look at the genre with a historical stance, as this album does, is a fresh, contradictory and critical position that stands against mass culture and global conformity.
"The Aporias of Futurism" attempts to define a momentous place, with coordinates and points of reference, within electronic experimental music.
Andreas and Carl's working method for the album was the usual musique concrète technique: cutting/assembling/editing/processing pre-recorded sounds ––but instead of deconstructing the concrete noises into an abstract sound entity, they took a different approach: organically interweaving orchestral structures with the electronically processed noise layers to create a composition in the spirit of classic Modernism from the beginning of the 20th century.
Carl began with sketches recorded via a broken CD player and processed through a ring modulator, reminiscent of the timbre of old electronic music from the 1950s. To interact with these fragments, Andreas recorded and processed a plethora of everyday noises, atmospheres, sound fragments from the modular system, industrial and shortwave radio noises, percussion in the form of slamming doors, falling metal sheets, ball tracks and so on. So, while they played in the futuristic discipline, the reference to the past confronts the notion, unmistakably. You can hear this in the tonality of the contrasting orchestral passages, in the sound character of the processed samples and the electronic sound layers. And it is precisely here that a narrative tension develops.
Theses and antitheses, extreme (unresolved) opposites, contrasts… Basically, the music is charged with inner contradictions and aporias. But yet another category takes place, and which plays a subordinate, almost outlawed role in the postmodern context: Beauty (and be it the beauty of ruins seen on the album cover) ––Beauty, a refuge for the pessimist.
In the course of the process, a multitude of motifs and ideas emerged from the fog of their memory. Free associations of concepts, books and authors from a wide period of time, such as Milton's Paradise Lost, William Blake, Robert Graves, ancient Rome, but also Borges and Juan Rulfo. This flood of images is also reflected on the album cover, as a "free interpretation" of cultural objects and their relationships in time.
The overarching motif of skeptical rejection to Futurism is illustrated by a quote from Emile M. Cioran, the writer who most closely embodies the common spirit of the works presented here:
"But now comes the strangest thing: the Futurist idolizes becoming only until he has enforced that order for which he fought; then the ideal conclusion of time becomes apparent to him, the 'always' of utopia, which concludes and crowns the historical process. The idea of the Golden Age, the paradise par excellence, thus grips believers and unbelievers alike. But between the original paradise of religions and the eschatological one of utopia lies all the distance that separates a nostalgia from a hope, a repentance from a delusion, an achieved from an unrealized perfection."