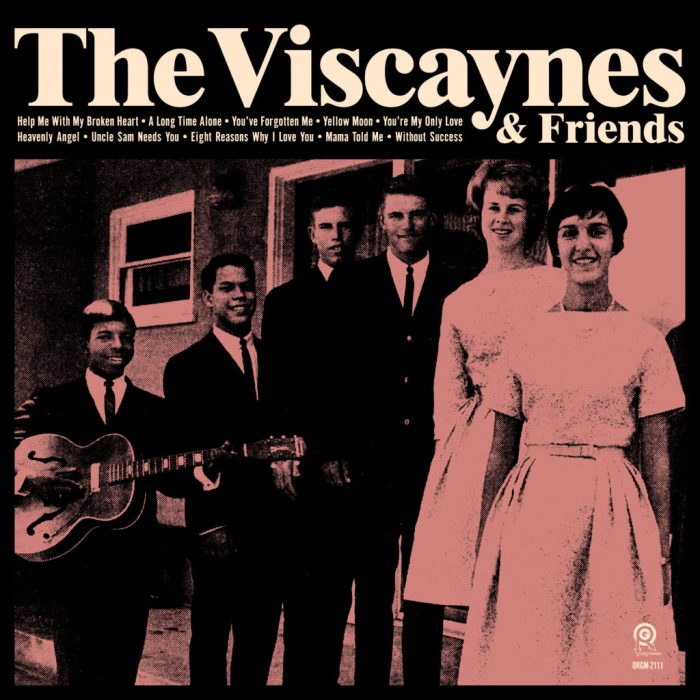 Formed in Vallejo, California in the 1950's, The Viscaynes were a high school doo-wop act who are said to be the first recorded singing group of Sylvester Stewart (aka Sly Stone), and the launching point of his extensive career. The group gained some early notoriety with a performance on Dick Stewart's Dance Party, after which they were introduced to producer George Motola. Charting on KYA radio's top 60 chart in 1961, "Yellow Moon" became a hit song for The Viscaynes, though they split up around the time of the song's popularity. The Viscaynes & Friends is the first official full-length release from the group, coming to light only after a master tape reel was discovered more than half a century since the group disbanded. The release features seven tracks from Sly and The Viscaynes, along with one cut from the The Individuals and two from The Precisions, all of which were produced by Motola.
Somewhat of a child prodigy within a deeply religious, and musical family, Sylvester Stewart was the oldest son to Alpha and K.C. Stewart, who had moved out West (with his four siblings Loretta, Freddie, Rose and Vaetta) from Denton, Texas when he was one year old. Sly's knack for dazzling the church crowds at only four years old would become family lore, and it was only a matter of time before his popular music-oriented friends would convince him to branch out beyond making music for The Lord.
"I met Sly in the summer before we started high school. I met him playing basketball tournaments in Vallejo." Frank Arellano of The Viscaynes remembered. "He had his groups, Charlene Imhoff and I had ours. We were in talent shows. When we heard Sly's group we went 'damn they're really good.' So I talked to Sly and said 'do you think you can help us out, get our harmonies together, he said 'sure,' and so that's how the group kind of started."
Charlene remembers when Sly showed up for the first session: "Sly walks in and says, 'Does anybody sing harmony or are y'all going to sing melody?' He started giving us directions on who should sing harmony and all that stuff. Sly was probably the most talented person I ever met in my life."
Chuck recalls: "We're probably the first mixed group in the world. We were mixed up and we didn't care, that's the thing that was fun. We had good harmonies and lots of fun doing stuff together, and we weren't just singing together and then never seeing each other, we were together a lot of the time just having fun, and I think that a lot of groups that are successful do that. Sly with such talent, they saw that & they pulled him right out of there, you know, right into the mainstream of music."
They began to record 45-rpm sides at the venerable Geary Theater in San Francisco, a small studio below the playhouse, late into the night. They were backed by Joe Piazza and the Continentals (which included future Family Stone member Jerry Martini). As was the emerging standard at the time, the group sang over the pre-recorded music of the band. One of their recordings was "Yellow Moon," which would become a hit for the band later that year. At the time, it was a magical experience for the high school kids.
However, apparently unsatisfied with the recordings, the 'management' had the group fly to Los Angeles and record a series of songs written by Motola and Page. These songs included "Heavenly Angel," a stunning showcase for Sly's voice, which caught the ears of KYA radio deejays Tom Donahue and Bob Mitchell; the innocently patriotic "Uncle Sam Needs You," and the ballads "You're My Only Love," and "You've Forgotten Me," which were only released years later by Motola. Aside from "Uncle Sam," every song was credited to Motola and Page as either songwriters, producers, or both.
The Viscaynes "Yellow Moon" reached number 16 on KYA radio's top 60 chart for the week of November 13, 1961. But by then the group was no more. Once they returned from Los Angeles things began to change. They were out of school and had to take on real jobs. Frank joined the Air Force, Charlene settled down and started a family, Charlie and Vern earned football scholarships to college, Maria was runner-up for Miss California in 1963, and Sylvester continued to build on his musical connections and made his way to San Francisco.
Sly became somewhat of a regular on Dick Stewart's Dance Party, playing with other acts, and by 1963 Sly was directing the house band at big events like the "Surf Party" at the Cow Palace, put on by KYA radio big-shots Tom Donahue and Bob Mitchell. Sly's multiple talents undoubtedly left an impression on Donahue and Mitchell, who hired Sly – still a teenager – as their only producer at their new recording company, Autumn Records, in 1964. And the rest is pop music history.